We are asking anyone and everyone to contribute toward our shared goal financially or through awareness. Please click a link below and get involved in helping us to raise awareness.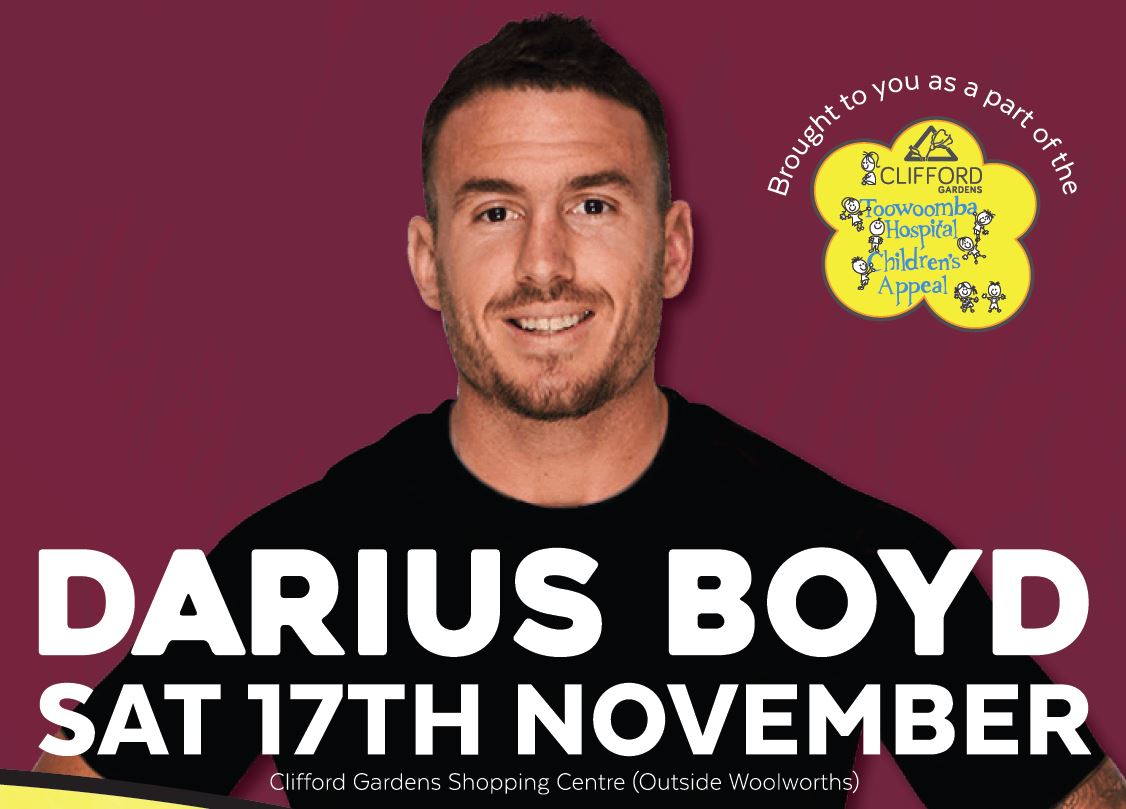 Darius Boyd - Kids Celebrity Football Toss
Register today to join Darius Boyd for the Kids Celebrity Football Toss from 10am - 11am at Clifford Gardens. Each child will have the chance to throw the footy through the hole with the winner to receive an exciting prize. Each participant also receives a special offer from Boost Juice. Registration is strictly limited to 100 participants and participants should be age 12 or under. Funds raised will benefit the 2018 Clifford Gardens Shopping Centre Toowoomba Hospital Children's Appeal.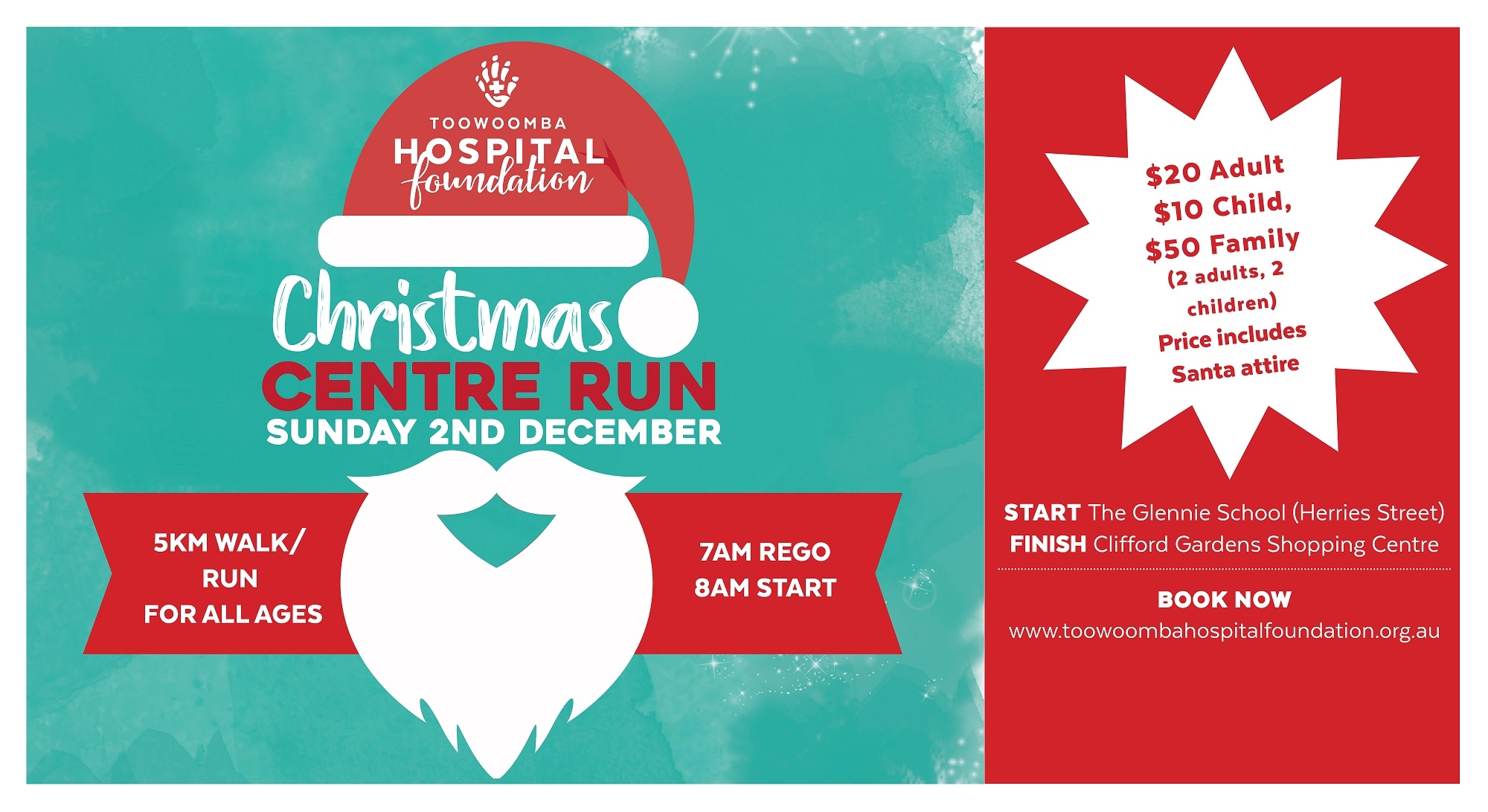 2018 Christmas Centre Run
Dress up in your finest Santa outfit and join us for the 2018 Christmas Centre Run. This family-friendly 5km walk/run is suitable for all ages and is a great way to get into the Christmas spirit and raise money for sick kids. Bookings now open. *Win an Apple Watch - the highest fundraiser will be awarded an Apple Watch. Donate today via https://events.toowoombahospitalfoundation.org.au/fundraisers/ToowoombaHospitalFoundation/christmas-centre-run---win-an-apple-watch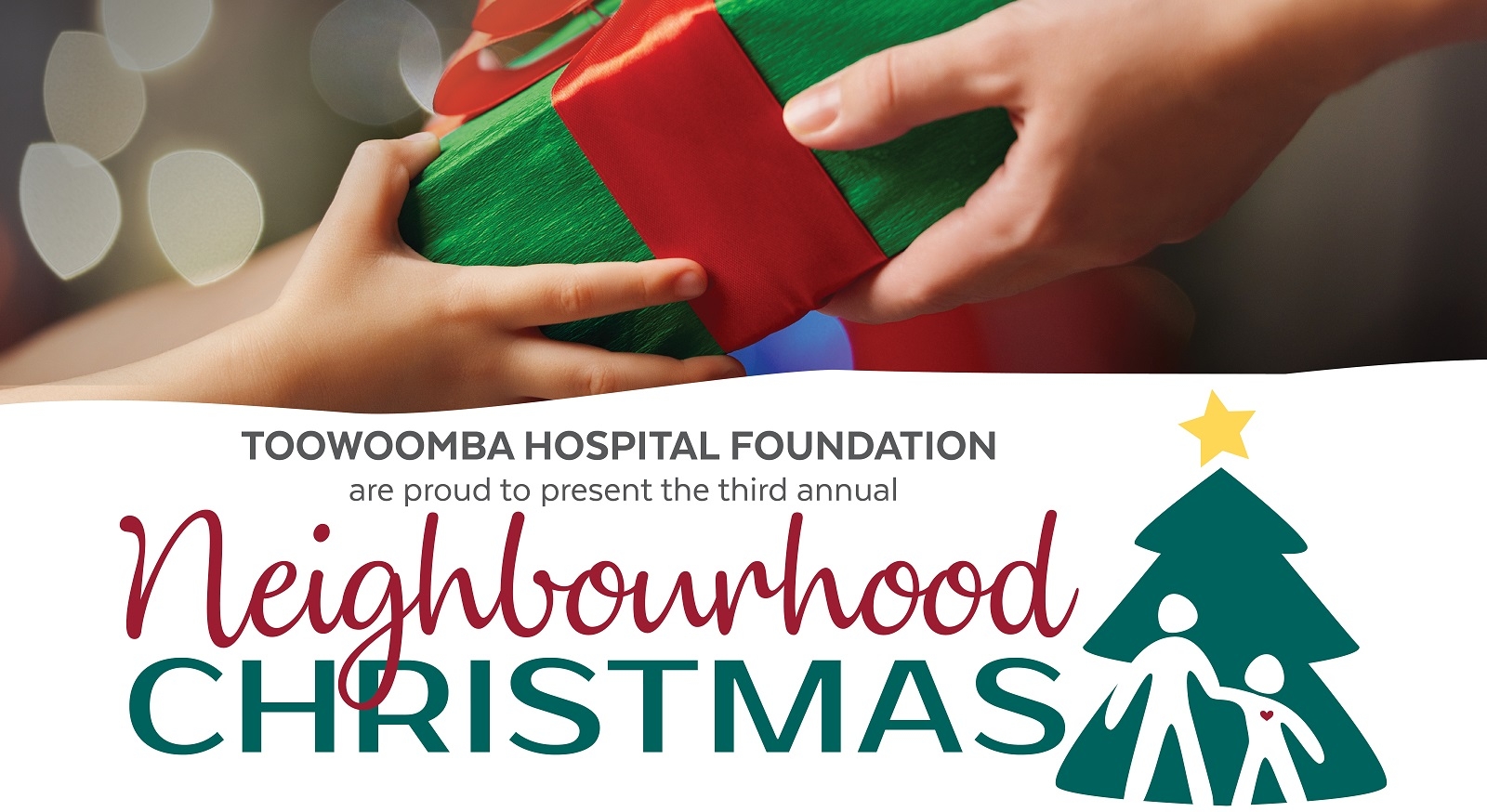 Neighbourhood Christmas
Toowoomba Hospital Foundation is proud to present the third annual Neighbourhood Christmas. The lunch event provides a Christmas to those who otherwise may not have the opportunity to celebrate the day. Guests are strictly via referral only.
We are incredibly lucky to be supported by some amazing organisations that hold annual events whereby THF is the sole or in-part beneficiary of funds raised.
THF are also lucky enough to support a number of fantastic organisations who are making a real contribution to our community. Below you can find events which fundraise on our behalf. We are so grateful for this support.
Think Pink - Breast Cancer Evening
Join Julia Telford as she talks about her breast cancer journey while we raise money for the Toowoomba Hospital Foundation and Breastscreen Queensland. Breastscreen Toowoomba currently needs 3D ultrasound equipment to make diagnosis easier and more accurate. Come and have a fun night raising money to improve rural service and listen to Julia's crazy last 12 months. Entry is $35 with food provided, drinks can be purchased from the Sundial on the night. Places are limited to be sure to RSVP to Toni Rissmann 0408 745 302 by 9th November.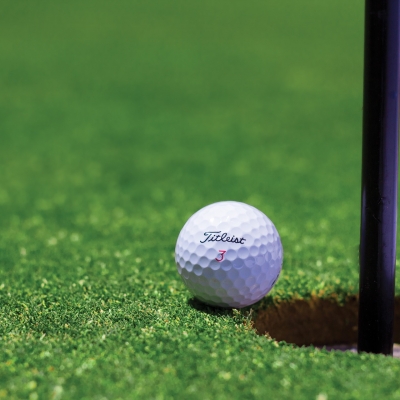 S&T Glass and Toowoomba Fasteners Charity Golf Day
Bookings are now open for the annual S&T Glass and Toowoomba Fasteners Charity Golf Day. The two person Ambrose event will support the Toowoomba Hospital Children's Appeal raising money for sick children in our region. To donate an item for auction on the day please contact Tom Herbert 0438 592 141 or Terri Binding-Bransdon 0432 444 193. For sponsorship enquiries please email Libby.Coghlan@health.qld.gov.au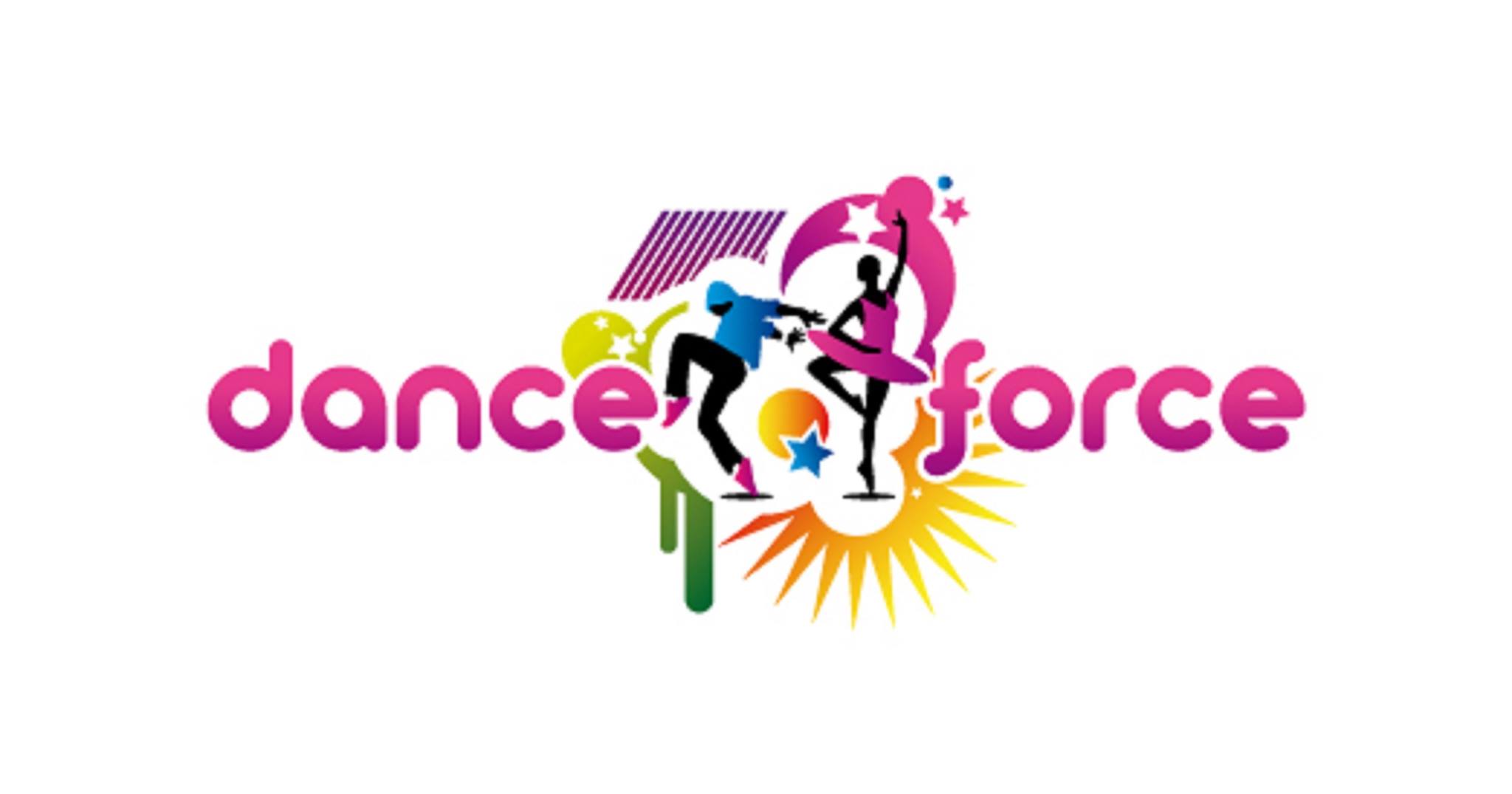 A Christmas Wish 2018
Fuji Xerox Business Centre presents Dance Force Toowoomba's production of "A Christmas Wish"! With two jam-packed acts, you are sure to be impressed by our classical ballerinas, our tumbling acrobats, as well as our tap, hip hop, contemporary and jazz students. ACT I: "Chasing Time" - Two ordinary sisters discover a mysterious time passage and become trapped in two very different worlds. Paige adventures to ancient Rome to find elegant harp players and bold gladiators; while Nora travels to a time of holograms in the distant future. Will they be forever lost in different worlds? Time will tell. ACT 2: "The Silver Screen" - The best of film soundtracks and many favourite moments from movies we all love. There's something for the whole family! All proceeds go to the Toowoomba Hospital Foundation, and particularly, the Toowoomba Hospital Childrens Appeal. Be sure to secure your seat anytime from Monday the 29th of October by contacting the Empire Theatre or at www.empiretheatre.com.au TICKETS - $25 UNDER 12YRS/PENSIONERS - $17 GROUPS OF 4 - $82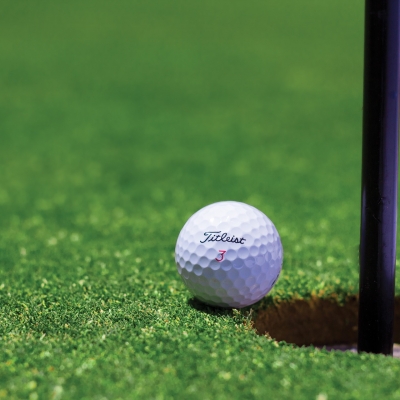 Concept Tiles Golf Day
Bookings are now open for the annual Concept Tiles Charity Golf Day. Tickets are $75pp and include: game of golf, lunch, buggy hire, drinks and platters. For sponsorship enquiries please ph: Ashley Western - 0474 131 307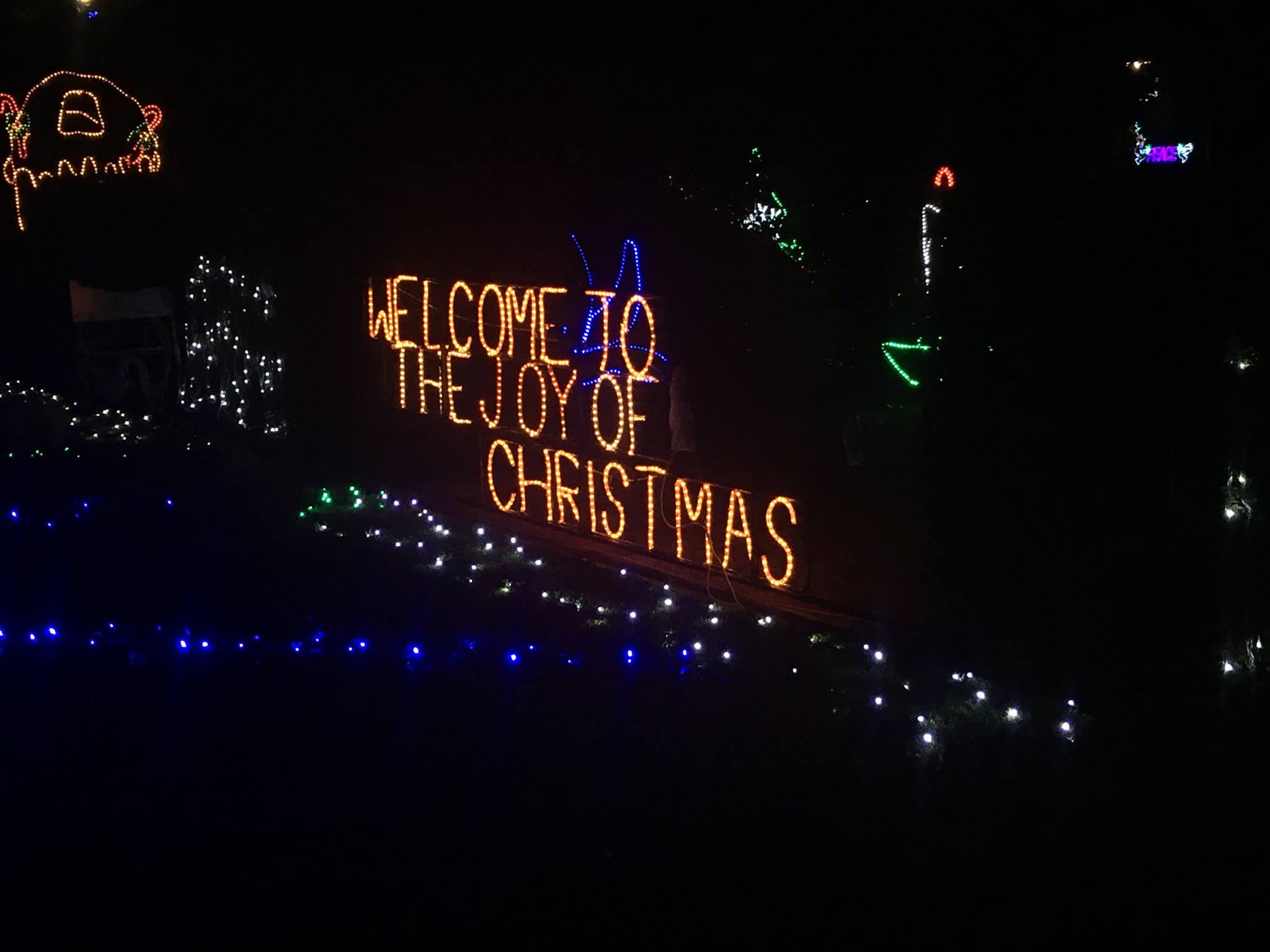 Toowoomba's Christmas Wonderland
1 Dec - 24 Oct 2018
Toowoomba
Toowoomba's Christmas Wonderland began with the dream of creating an event that the whole community could come to and experience the joy and wonder of Christmas. This year marks the 16th year since its inception by the Burstow family. In 2017 the Toowoomba Christmas Wonderland operated from 2-24 December with over 85,000 people enjoying the lights over 23 amazing nights with no nights washed out due to wet weather. The three major charities shared $90,000 with over $5,000 being donated to smaller support organisations. We look forward to seeing thousands of people at this year's event in support of our three major beneficiaries Lifeline Darling Downs & South West Qld Ltd, Toowoomba Hospital Foundation and Toowoomba Hospice.
Christmas Variety Show
Join the Mt Lofty Heights Nursing Home team as they present the Christmas Variety Show. Enjoy a great night of family entertainment with live music, kids corner and supper included.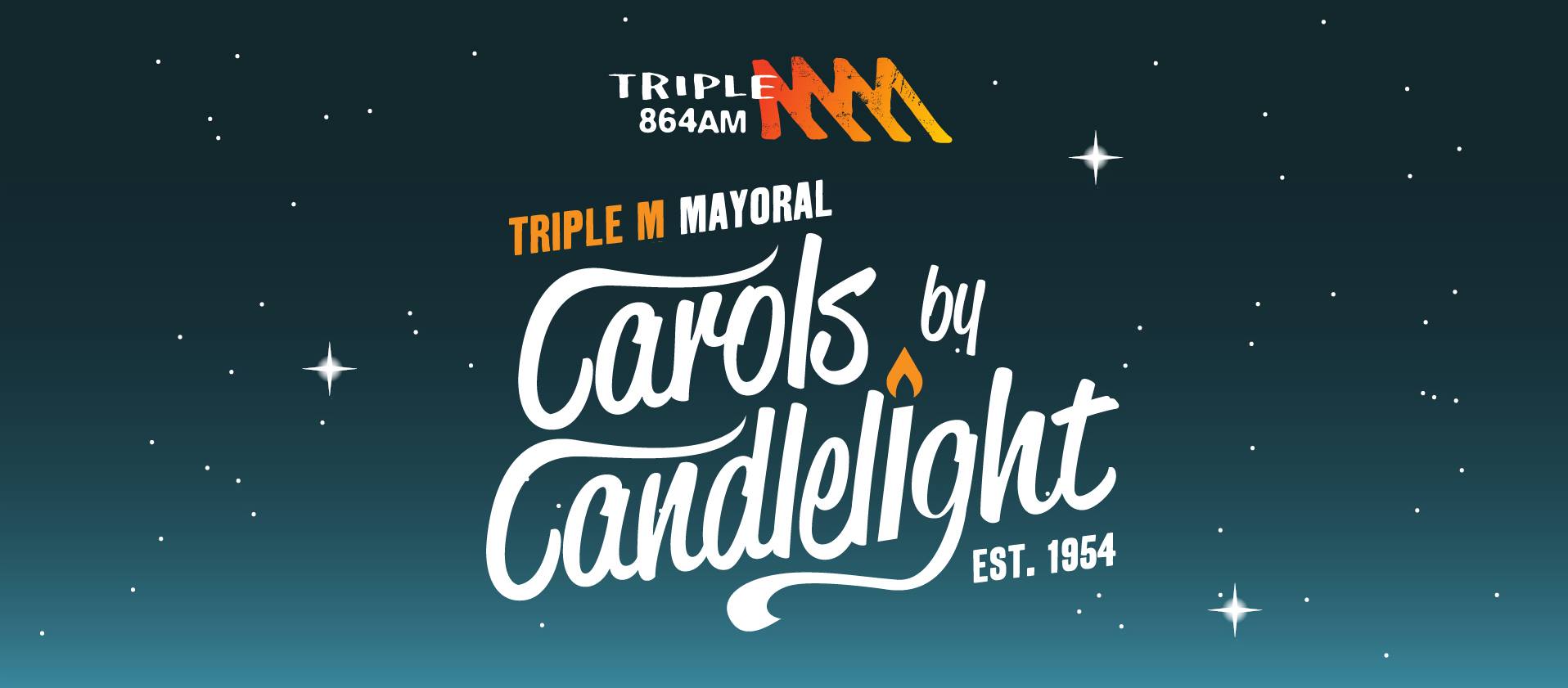 Triple M Mayoral Carols by Candlelight
For more than a decade thousands have been pouring into Toowoomba's iconic Queen's Park for the annual Carols by Candlelight events as up to 15000 people are led in traditional Christmas celebrations by a lineup of talented local musicians and singers. This free event kicks off with pre-show entertainment from 5.30pm, Carols from 6.30pm and concludes with fireworks at 8.15pm. Christmas markets, food and rides kick off at 4pm.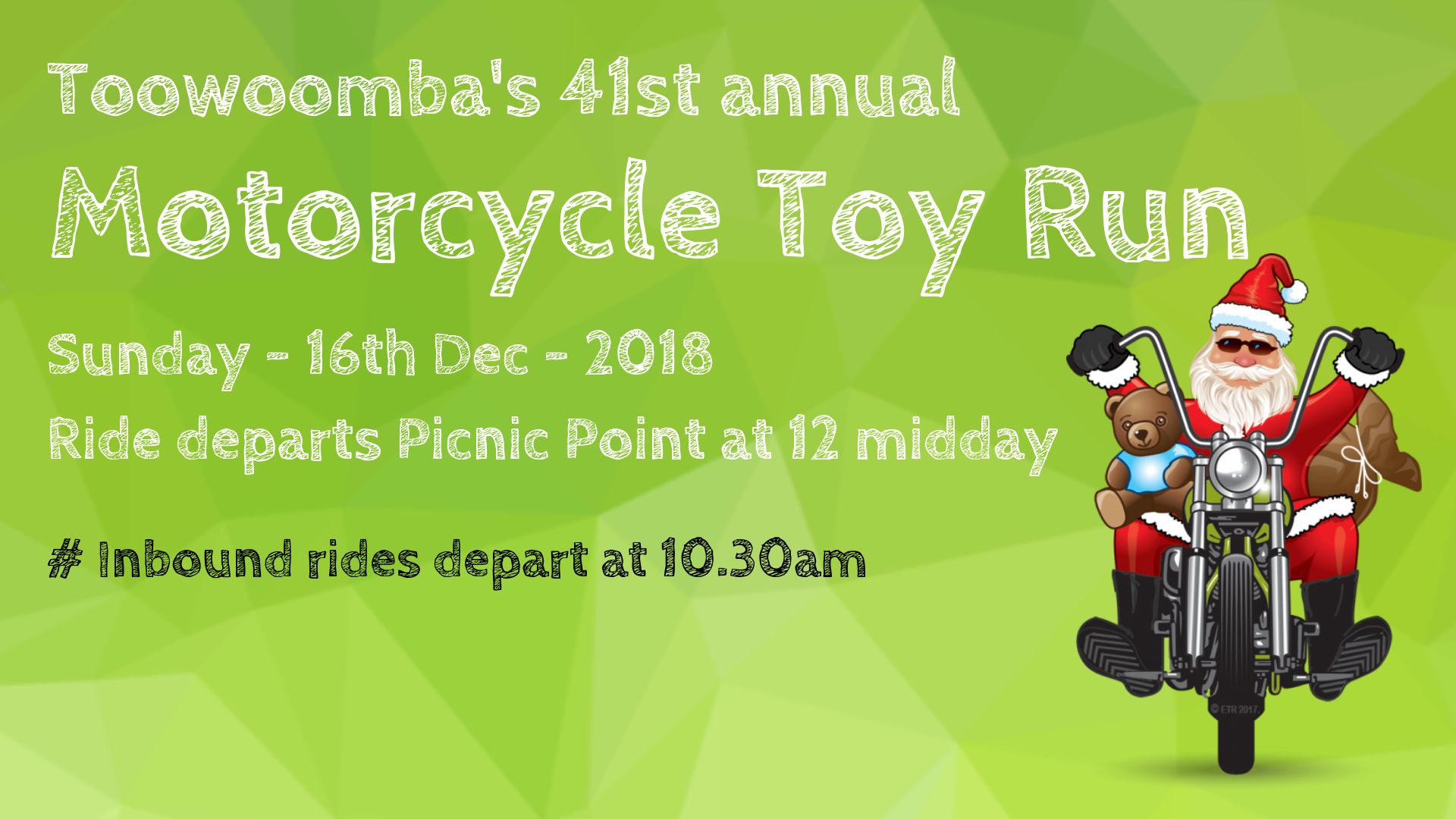 Toowoomba Motorcycle Toy Run
Join Toowoomba's 41st Annual Motorcycle Toy Run on Sunday 16th Dec as they travel from Picnic Point to the DMCSC clubhouse in the Toowoomba Showgrounds. Cool refreshments and a sausage sizzle are available for a gold coin donation. For more information or to make a donation contact JJ Rodgers - 0418 659 091